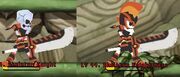 Skeleton Knights are monsters that are, as their name describes, Knights that are skeletons. There is also a stronger version of it, called a Skeleton Knight Boss, who also have a red helmet on to differentiate between the two types.
Attacks
Their attacks are almost identical to the Knight's, including the combo and the dash. However, when it gets knocked down, its recovery move is where it spins into the air and attacks the player if they are landed on. They also use an ability similar to Circle Blade, except the attack radius is actually not 360 degrees and it knocks up farther.
Appearances
Community content is available under
CC-BY-SA
unless otherwise noted.