— GRAND CHASE —


ELESIS

LIRE

ARME

LASS

RYAN

RONAN

AMY

JIN

SIEGHART

MARI

DIO

ZERO

LEY

RUFUS

RIN

ASIN

LIME

EDEL

VEIGAS

UNO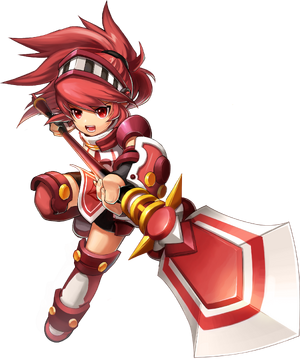 A Spearman specializes in wielding a long spear, enabling her to dodge strikes and attack enemies from a safe distance. Attacking with a long spear requires different battle strategies than fighting with a sword.
Spearmen can use aggressive attack skills, like combo attacks and furious jab-and-throw attacks and can also carry out quick multiple attacks with grace, despite their cumbersome appearance.
Requirements
It is necessary to be level twenty (20) to be able participate in Second (2nd) Job Promotion.
"The Knights of Serdin are gathering those that are skilled in using spears. If you are able to defeat the monsters that are scattered throughout Bermesiah Empire, then you too can join the ranks of the Knights of Serdin."
- Knight Master -

GP Mission
(Costs 200 GP)
Part 1
Run the Marsh of Oblivion once. Even if you don't successfully pass the dungeon, you'll still complete the mission.

Entering the dungeon and leaving immediately does not count as "running". It only counts if the dungeon is completed or failed.
Part 2
Part 3
Part 4
Slay 100 monsters within the range of ± 2 above or below level monsters.
Cash Mission
(Costs 2700 cash)
Quotes
Game Start
| | | |
| --- | --- | --- |
| | | "Know your place if you're going to attack!" |
Skills
Taunt
| | | |
| --- | --- | --- |
| | | "Are you feeling scared yet?" |
Game End
| | | |
| --- | --- | --- |
| | | "You are no match for me!" |
Basic Movements
Keystrokes
Name
Effect
Basic Combo
Elesis stabs the opponent three times with her spear, then swings her spear once, followed by twirling her weapon numerous times against the opponent before finishing off with an overhead slam.
+
Critical Attack
In the middle of her combo, Elesis swings her spear upward and overhead.
+
Double Attack
At the end of her combo, Elesis swings her spear upward and overhead.
+
Jump Attack
Elesis jumps up and swings her spear downward.
Dash
Elesis simply leaps forward.
+
Dash Attack
While dashing, Elesis swings her spear upward and overhead.
+
Raging Spear
Elesis stabs her target numerous times before knocking them down with a kick.
Grab
Elesis impales her enemy's stomach before swinging and dropping them overhead.
(Note: Both players are invincible throughout the animation.)
(Note: Only works in PvP; Dungeon monsters cannot be grabbed.)
(Note: Due to lag, it may not work, or may intercept the opponent's attack/skill.)
Skills
| Level/Type | Name | Effect |
| --- | --- | --- |
| LV 1 Basic | | Elesis twirls her spear and slams it onto the ground. |
| LV 1 Purchased | Leap Attack | Elesis stabs twice before sweeping up the spear and lifting nearby enemies. Can be bought for 500 Cash for 500 uses. |
| LV 2 Basic | | Elesis spins horizontally with the spear, hitting enemies in front and behind. |
| LV 3 Basic | | Elesis ignites and hurls a burning spear across an infinite horizontal distance, reaching the opposite edge of the map, and dealing several hits while passing through enemies. |
| LVL 4 Special | | Elesis thrusts her spear forwards to pierce all enemies in a very long horizontal straight line, dealing damage, inflicting a damage over time flame, and causing knockdown. |
Trivia
Players find the job named Spearman odd, as Elesis is female. Although Spearmaiden may have made the correct term, Spearman is a unisex title. The same goes for Crossbowman.
Spearman is Elesis' only job that drifts away from using the standard variation of a sword.
Spearman is Elesis' only class that cannot run nor air dash.
The Elsword character Chung has an attack called "Leap Attack", which causes him to launch himself at enemies and slam his cannon down at opponents.
Spearman is the only job of Elesis that cannot air dash or run.