— GRAND CHASE —


ELESIS

LIRE

ARME

LASS

RYAN

RONAN

AMY

JIN

SIEGHART

MARI

DIO

ZERO

LEY

RUFUS

RIN

ASIN

LIME

EDEL

VEIGAS

UNO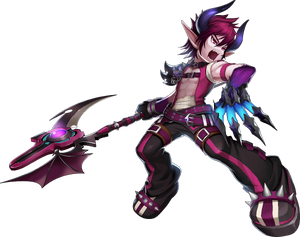 Dio's starting level is 30 and even though he appears to fight without a weapon, he summons numerous tools that physically manifests his powers during battle, making him lethal in close and mid-range combat.
Unlike the other Grand Chase characters, you can create shortcuts for Dio's basic skills and specials. This allows you to create a variety of combos. It also makes Dio easy to use for new players.
Unlocking
As a first class, Stygian does not need to be unlocked; Dio starts as this class.
Quotes
Game Start
| | | |
| --- | --- | --- |
| | | "Away with you! Useless creature." |
When Attacking
When Using Innocent Fear
| | | |
| --- | --- | --- |
| | | "I will show you my true power!" |
Skills
Taunt
| | | |
| --- | --- | --- |
| | | "You were the one annoying me all along." |
| | | |
| --- | --- | --- |
| | | "Don't fool around in front of me." |
Counter
Game End
| | | |
| --- | --- | --- |
| | | "I don't have time to play with you." |
Basic Movement
Keystrokes
Name
Effect
Basic Combo
Dio swings his Rake Hand forward, then summons the Death Star and strikes the the ground with the tip of his scythe then drags it backward, then performs an upward swing, and finishes off with a forward spin.
+
Critical Attack
In the middle of his combo, Dio swings his Death Star.
+
Double Attack
At the end of his combo, Dio swings his Death Star.
+
Jump Attack
Dio jumps up and swings his Death Star.
Dash
Dio dashes forward. Holding down the key causes him to run.
+
Air Dash
After jumping, Dio dashes in midair.
+
Dash Attack
While dashing, Dio swings his Rake Hand and then his Death Star.
+
Grab
Dio forces his opponent into a vortex where they instantly pop out of it and are harmed.
(Note: Both players are invincible throughout the animation.)
(Note: Only works in PvP; Dungeon monsters cannot be grabbed.)
(Note: Due to lag, it may not work, or may intercept the opponent's attack/skill.)
Skills
Instead of three fixed skills, Dio uses a function called "Action Point". This allows him to set up 5 different special attacks using the

,

,

,

, and

, changing this makes Pet Attack to 16px and Taunt to

.
The Stygian gains multitude of powers VIA the Skill Tree. Mixing up the powers, the Stygian can become a dangerous weapon.
| Level/Type | Name | Effect |
| --- | --- | --- |
| LVL 4 Special | Innocent Fear | Dio sits on his throne, releasing huge amounts of dark energy that forces his enemies to bow before him (in PvP), damaging all opponents across the map and causing a knockdown effect upon the skill's climax. |
| LVL 4 Special | Death Sign | Dio enlarges his Rake Hand, and then crushes the ground with it, causing an huge and dark quake around him. |
Trivia
Community content is available under
CC-BY-SA
unless otherwise noted.