— GRAND CHASE —


ELESIS

LIRE

ARME

LASS

RYAN

RONAN

AMY

JIN

SIEGHART

MARI

DIO

ZERO

LEY

RUFUS

RIN

ASIN

LIME

EDEL

VEIGAS

UNO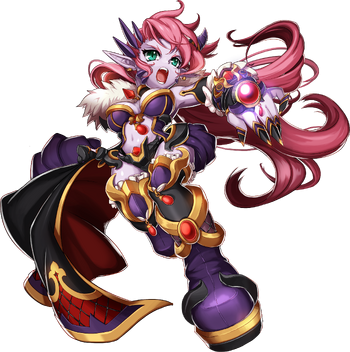 With Ley's power of the summoner as powerful as ever and armed with the gauntlet, the mystical Ultima, Ley went to the mortal world, disguising the joy to search of her childhood friend, unaware that the first people who find him are the heroes of the Grand Chase, and that on the way, Dio will return to his "other half", the lady of the Crimson River tribe, Ley.
She moves while always floating in mid-air. Like Arme, she lacks the ability to dash and run, but she has other ways of compensating for this. She can chain combos while in the air and can also summon her minions to help her during battle.
Unlocking
As a first class, Summoner does not need to be unlocked; Ley starts as this class.
Quotes
Game Start
| | | |
| --- | --- | --- |
| | | "Jeeves! ...Where is he?" |
When Attacking
| | | |
| --- | --- | --- |
| | | "Bring down the destruction." |
Summoning
Skills
Taunt
Counter
| | | |
| --- | --- | --- |
| | | "Is that all you've got?" |
Game End
Basic Movements
Ley's orbs do not stun and travel a fairly short distance. In addition, without the passive [Effect] Combo Enhancement, her orbs can be destroyed by any attack.
Keystrokes
Name
Effect
Basic Combo
Ley throws three orbs in succession.
+
Sparkle
In the middle or after her combo or while dashing, Ley releases an aura around her.
+
Jump Attack
Ley jumps up and fires an orb downward.
Dash
Ley instantly teleports a short distance.
+
Grab
Ley pulls her enemy into a vortex where they pop out from a dark hole in the ground.
(Note: Both players are invincible throughout the animation.)
(Note: Only works in PvP; Dungeon monsters cannot be grabbed.)
(Note: Due to lag, it may not work, or may intercept the opponent's attack/skill.)
Skills
| Level/Type | Name | Effect |
| --- | --- | --- |
| LVL 4 Special | | Ley summons the giant, fiery eye "Hate" that snipes enemies across the map with quick, powerful bursts of condensed dark energy. |
| LVL 4 Special | Mortality | Ley shoots a small orb that implodes into a huge, dark explosion on contact or at the climax of its travel. Any opponent surviving the initial blast will be marked with a purple symbol, which will detonate after a short period of time. |
Trivia
Despite her class name, she only has two summons. Ley also hosts a large variety of supportive and offensive spells, things that summoners do not specialize in. Not only does this go against her job specialization, but Ley's personality as well.