— GRAND CHASE —


ELESIS

LIRE

ARME

LASS

RYAN

RONAN

AMY

JIN

SIEGHART

MARI

DIO

ZERO

LEY

RUFUS

RIN

ASIN

LIME

EDEL

VEIGAS

UNO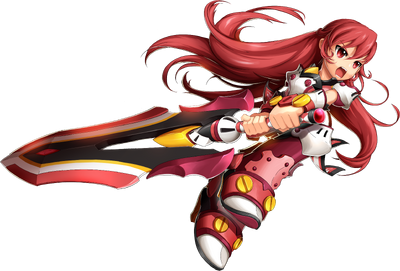 ELESIS




Knight





ST




Spearman




Sword Master




Savior
Sword Masters are experts of swordplay. This style of fighting was developed by a Bermesiahn mercenary. Contrary to the name, Sword Masters aren't limited to the use of swords, they can wield a wide variety of weapons; greatly expanding the number of strategies available to them. The king or queen of a country grants the honorable title of Sword Master to a limited number of people as a reward for completing certain missions and contributing greatly to their respective countries. Elesis's grandfather, Sieghart, was once a Sword Master.
Elesis uses a heavy, thick, two-handed sword to inflict devastating blows on her enemies. She has the experience and confidence necessary to be a flawless swordsman by the time she acquires the rank of Sword Master; which will further improve her formidable fighting abilities.
Requirements
It is necessary to be level thirty (30) to be able to participate in Third (3rd) Job Promotion.
"We, acting on behalf of the country of Serdin, would bestow upon thee the title of Sword Master. However, to receive the title of Sword Master you must pass several tests. Only Elesis is capable of completing these tests."
- Queen of Serdin -

GP Mission
(10,000 GP)
Part 1
Run the Ruins of the Silver Knights once. Even if you don't successfully pass the dungeon, you'll still complete the mission.

Entering the dungeon and leaving immediately does not count as "running". It only counts if the dungeon is completed or failed.
Part 2
Part 3
Part 4
Slay 120 monsters within the range of ± 2 above or below level monsters.
Part 5
(8,600 Cash)
Quotes
Game Start
Skills
Taunt
| | | |
| --- | --- | --- |
| | | "Are you feeling scared yet?" |
Game End
| | | |
| --- | --- | --- |
| | | "You are no match for me!" |
Basic Attacks
Keystrokes
Name
Effect
Basic Combo
Elesis swings her massive sword thrice.
(Note: Can be done without a target.)
+
Critical Attack
In the middle of her combo, Elesis cleaves upward to knock her opponent into the air.
+
Double Attack
At the end of her combo, Elesis swings her blade twice.
+
Shadow Attack
In the middle or after her combo, Elesis slips behind her target via shadow silhouette and cleaves.
+
Jump Attack
Elesis jumps up and swings her blade downward.
+ +
Jump Attack (Up)
Elesis jumps up and swings her blade upward.
+ +
Jump Attack (Down)
Elesis jumps up and smashes her sword down to the ground.
Dash
Elesis dashes forward. Holding down the key causes her to run.
+
Air Dash
After jumping, Elesis dashes in midair.
+
Dash Attack
While dashing, Elesis performs a wide swing.
+
Grab
Elesis grabs her opponent and throws them.
(Note: Both players are invincible throughout the animation.)
(Note: Only works in PvP; Dungeon monsters cannot be grabbed.)
(Note: Due to lag, it may not work, or may intercept the opponent's attack/skill.)
Skills
Level/Type
Name
Effect
LVL 1 Basic


Power Break

Elesis performs a wide heavy cleave that knocks her opponent away.
(Note: Elesis can dash right after the cleaving strike.)
LVL 2 Basic


Blade Beam

An advanced version of the Knight's Sword Fire; Elesis sends a powerful beam forward while also throwing a smaller weaker beam backward.
LVL 3 Basic


Dragon Dive

An advanced version of the Knight's Critical X; Elesis sends a blade beam angled upward followed by a downward drop that transitions into a powerful slam. (8x Hit)
LVL 4 Special
Elesis jumps and slams her giant sword into the ground, causing the land underneath her to erupt into a pillar of fire, damaging enemies who come too close. Medium-sized pillars of fire also appear beneath all enemies on screen, dealing damage over time.
Trivia
The Sword Master's weapon, the Giant Sword, is a weapon similarly named to the Elsword character Elsword's weapon, the Great Sword.
The Elsword character Raven has a class called "Blade Master" (technically, "Sword" and "Blade" are the same thing). The Blade Master, however, is more agile than the Sword Master, and uses a one-handed sword in battle.
Despite being "Master of the Sword", this class has flaws, such as lacking mobility.
Despite the description, Sieghart is entitled as "Prime Knight", not "Sword Master".
Sword Master is the only class that Elesis holds her weapon opposite to her other classes.
Strangely yet ironic, Lire's Arch Ranger class uses heavy weapons like the Sword Master class (Great Bow and large arrows) but is not hindered in any way, despite that Elesis is more physically powerful than Lire.
Community content is available under
CC-BY-SA
unless otherwise noted.