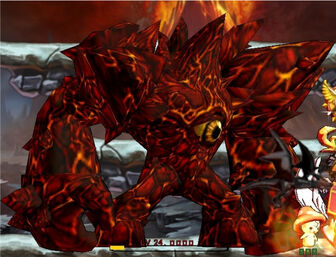 Tartarus (Thaitaros or Thairos in foreign servers) is the mini-boss of King Fang's Lair and resembles a monster made out of rocks of semi-cooled lava. It is an Orc leading the Bloodwind Orc Clan in the siege of the Lair.
Attacks
It attacks with a barrage of melee attacks, including a Windmill, and can also fire a laser similar to that of Siren's 3rd grade skill.
It has a Danger attack that causes molten debris to fall (similar to the Danger attack of Giant Stone Golem, with the exception of the Jump).
Trivia
Community content is available under
CC-BY-SA
unless otherwise noted.