"

All will serve! Be you man or god, you will serve!

"

— Thanatos
Lord Thanatos was the Ascendant God from Xenia that is fought as a boss in the Fortress of Ascension and held the Orb of Ascendancy. His attributes also include Domination.
Background
There is nothing else known about Thanatos other than being one of the native guardians that had existed in Xenia who took a fragment of the shattered Soul Stone and became a god. He was once a gentle god and had an intimate relationship with the temple maiden, Iblis.
Thanatos had made weapons for his beloved before his descent into darkness. It is said that they boast power that made even the gods cower in fear.
At some point during his tyranny, the Ascendant God kidnapped a Starlet named Lilith for reasons not mentioned.
Story
The Whispering Woods
After the Guardian Ent was freed from corruption, he informed the Grand Chase about an even greater "darkness" coming from the land of gods. They assumed the cause was Kaze'aze, but in reality, it was the Ascendant God.
Victor's Fortress
When defeated by Jin, Victor asked an evil entity for help. However, the voice told the Supreme Leader of the Black Knights that he was just his tool who outlived his purpose and left him to die.
Battle for Bermesiah
As the Grand Chase headed back to Bermesiah, a certain voice confirmed their suspicions, informing them that a greater evil had already erupted in the land of gods, and asked them for help.
Temple of Cuatal
The Grand Chase learned that the Ascendant God grew in power and broke the balance between all the deities. Samsara, the God of Cycles, devised a plan to overwhelm the powers of Ascendancy by using the five Deity Orbs held by the gods of Xenia including his Orb of Cycles.
The Wyrm's Maw
After recovering his full power, the God of Flames Starkiln offered the group his Orb of Hell Fire and remarked that if possible, he would like to confront the Ascendant God himself for shamelessly casting his evil upon him.
Altar of Judgment
When the spell of the Ascendant God was broken, the Goddess of Judgment Yamini apologized and blessed them with the Orb of Judgment, aware of their purpose prior.
Temple of Destruction
As he offered the Orb of Destruction for their victory, the God of Destruction Perseo expressed his concern for Lady Gaia who had also sealed her powers in their attempt to escape the God of Domination.
Forest of Life
The Goddess of Life granted the Grand Chase the Orb of Life and wished them luck against the epic battle with the Ascendant God.
Fortress of Ascension
As the Grand Chase first encountered the Ascendant God, he had a refined appearance of a handsome, young man. However, the incredibly powerful evil energy he gave off was overwhelming. Thanatos toyed the Grand Chase before ultimately unleashing his true power. However, with the help of the Deity Orbs, the Ascendant God was defeated. Then, his guardian Ashtaroth took the Orb of Ascendancy and destroyed him.
Attacks
1st Form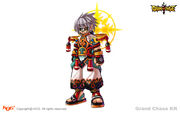 Thanatos in this form has a move set similar to Jin and Amy in her Siren job and has a total of 3 attacks. His 1st attack is signaled when he raises his hand, and a burst of fire appears directly on top of a player, severely damaging them and launching them high. His 2nd attack, similar to the flower in Jin's White Flower Technique, damages a player near him, indicated when he lowers his head. In the 3rd attack which Thanatos will raise his arm in a direction, a heavy sound wave appears in that direction. This wave has an infinite vertical and horizontal range which makes it extremely difficult to dodge.
Thanatos in this form will levitate in a spot and teleport every so often. 2 Dark Hierophants and 2 Sataniel's Warriors assist him in this part of the battle.
2nd Form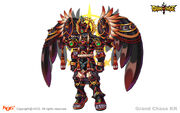 Once defeating his 1st form, Thanatos will take on another form in which he has a move set similar to Victor, Lord Perseo, and Mari in her Polaris job. He can shoot multiple dark orbs in rapid succession and they travel extremely fast. When he senses a player near him, Thanatos can activate the Polaris' Call of Ruin occasionally that scores multiple hits on a player. If a player is hard to attack, even with his orbs, he sends a dark skull flame that slowly, constantly chases the player and if it hits them, it disintegrates into massive damage to the player and others. Sometimes, he will unleash a binding effect over a wide area which drains the player's health to restore his own.
Thanatos in this form will occasionally float around the map, and eventually, out of reach or even below the map, which makes attacking him impossible. 2 Hera monsters accompany him during this part of the battle.
3rd Form
In his final, true form, Thanatos can create a burst of fire in his hand to massively damage the players in front of him, instantly sending them to FATAL mode. He can also send down 4 spikes that can hit the players at a distance, leave flames upon his feet, and can send out fast-moving tornadoes that remove all the player's mana. Thanatos is also capable of using a bind that affects the entire screen and it lasts quite a while. Often after the bind, he will create a large, dark orb that draws players closer to it before the orb explodes, usually killing the player or placing them in FATAL mode.
Similar to his first form, Thanatos will remain in a spot to teleport later. However, he will never gain any elevation. Like Kaze'aze, Thanatos in this form is easier and quicker to dispatch than the previous forms due to his massive size. As his life goes down, Gargoyles will start spawning.
Trivia
Gallery
Videos
References