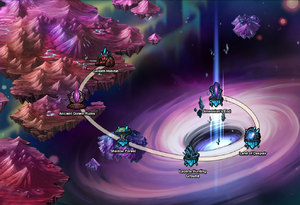 Located at the end of Elyos, Trivia is a barren region at the edge of a massive floating island surrounded by mountains and several island clusters. It is the threshold to the portal opening into Aernas, and Asmodians wishing to enter Aernas must first pass through this region. However, not all Asmodians are able to handle the soul devouring darkness, and Trivia is protected by black holes that suck and destroy the souls of all invaders. The dimensional portal itself is located in an unexplored region in Bermesiah.
Like île de Frost, dungeons in Trivia do not have portals; instead, arcane circles block dungeon progression until all the monsters in the section of the room the player is in are cleared. Furthermore, partying is not allowed in this region and pets cannot attack in the dungeons.
Unlocking
Edit
Trivia does not need to be unlocked for Veigas. However, Trivia cannot be accessed by any other character other than Veigas.

: Level 4 ▐ Crest: Goliath Habitat


: Level 7 ▐ Crest: Ancient Golem Ruins


: Level 10 ▐ Crest: Shadow Forest


: Level 13 ▐ Crest: Lacerta Hunting Ground


: Level 16 ▐ Crest: Land of Despair


: Level 19 ▐ Crest: Dimension's End

Locations
Edit
Community content is available under
CC-BY-SA
unless otherwise noted.