Two server merges for Grand Chase Dimensional Chaser (Philippines, Japan, and SE Asia/North America, Latin America, and Europe) have been implemented and first ones (PH, JP, and SEA) have now been given an option to change their voice settings in Japanese, Portuguese, and English. But I've just noticed that voice actors for the English voice have still not been credited in-game.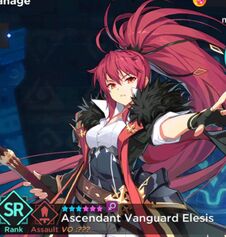 Because of this, I ask for everyone not to add voice actors for the English version just yet until the game will show finally show the credits for them. But if you do know an information about who the voice actors are for each characters, please put a reference or source for it. It must be confirmed by the voice actors themselves or a credit list of their roles. These are the following:
Must be announced they're voicing this certain character(s) in their social media (Facebook, Twitter, etc).
Must be added in the voice actor's credit list in their website.
Must be confirmed by the voice actor's agent or the people who are in-charge with Grand Chase Dimensional Chaser's voice managing.
The Wikipedia page of that voice actor will not accepted as source for that information unless it is confirmed by the said three followings.
If you put an information for it without meeting the four followings, I will still try my best to look for its credibility. It will also need a citation or will be removed in that article.
Also extra
I apologize for being inactive in the Wiki for so long, but I'll try to make things up for now on. I will also try my best to tweak some articles and things that are needed for editing, improvement, and adding/replace new information.
Community content is available under
CC-BY-SA
unless otherwise noted.