— GRAND CHASE —


ELESIS

LIRE

ARME

LASS

RYAN

RONAN

AMY

JIN

SIEGHART

MARI

DIO

ZERO

LEY

RUFUS

RIN

ASIN

LIME

EDEL

VEIGAS

UNO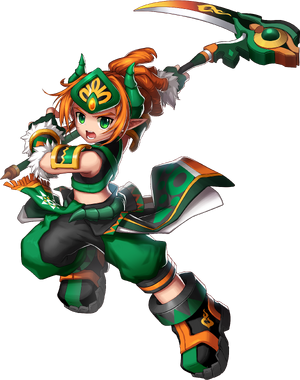 Vikens are Druids who protect the forests searched for the source of their strength from nature and spent many years researching it.
Realizing that the Druids cannot stamp out the forces of Darkness with just their transformative powers alone, the chief of the Druids, Mo'ru Pi'su, entered into an alliance with Nature, whereby endowing the druids with its powers. However, many Druids failed in their training, and only a special group of Sentinels, who were strong in body and fiercely trained, were able to succeed. Mo'ru Pi'su bestowed upon these Sentinels the title of "Viken," those who bear the life force of Mother Nature upon their souls. Mo'ru Pi'su gave the Viken the scythe he used to return those whose lives had just ended back to the Earth as a way of swearing to the bond that exists between Nature and the Druids.
With its large blade and long handle, the giant scythe's specialties are its long reach and slashing attacks. With his speed, the ability to fight in close quarters, and his long reaching scythe, Vikens can dole out fast chained attacks and call down Nature's wrath. In addition, Viken can still transform into the Wolf and Nephilim forms.
Requirements
It is necessary to be level thirty (30) to be able to participate in Third (3rd) Job Promotion.
"Young Druid, you need to be strong to protect the world. To become a Viken you need to successfully pass all my tests. Remember that weak druids cannot become a Viken. Your life depends on your success."
- Mo'ru Pi'su -
GP Mission
(10,000 GP)
Part 1
Run the Ruins of the Silver Knights once. Even if you don't successfully pass the dungeon, you'll still complete the mission.

Entering the dungeon and leaving immediately does not count as "running". It only counts if the dungeon is completed or failed.
Part 2
Part 3
Part 4
Slay 120 monsters within the range of ± 2 above or below level monsters.
Part 5
(8,600 Cash)
Quotes
Game Start
When Attacking
Skills
Taunt
| | | |
| --- | --- | --- |
| | | "Are you the one who is destroying the forest?" |
| | | |
| --- | --- | --- |
| | | "I'll show you the power of the Druid!" |
| | | |
| --- | --- | --- |
| | | "You are kidding, right?" |
Game End
| | | |
| --- | --- | --- |
| | | "Hahahaha! Better luck next time!" |
| | | |
| --- | --- | --- |
| | | "Don't underestimate the power of the Druid!" |
Basic Movements
Keystrokes
Name
Effect
Basic Combo
Ryan swings his scythe four times.
+
Critical Attack
In the middle of his combo, Ryan swings his scythe upward, launching the opponent.
+
Double Attack
At the end of his combo, Ryan swings his scythe upward, launching the opponent.
During Basic Combo/Double Attack/Critical Attack, +[1]
Frenzy
Ryan rapidly spins his scythe then slashes, the last hit launches the opponent.
During Basic Combo/Frenzy, +
Launcher
Ryan strikes the the ground with the tip of his scythe then drags it backward, slightly launching the foe.
+
Jump Attack
Ryan jumps and swings his scythe downward.
++
Jump Attack (Up)
Ryan jumps and swings his scythe in a crescent upward motion.
++
Jump Attack 2 (Up)
After his upward swing, Ryan spins in air and attacks several times.
Dash
Ryan dashes forward. Holding down the key causes him to run.
+
Air Dash
After jumping, Ryan dashes in midair.
+
Dash Attack
While dashing, Ryan swings his scythe upward, launching the opponent.
++
Air Dash Attack
While air dashing, Ryan spin attacks twice, launching the opponent.
++
Nature Tamer
Ryan throws a seed in the opposite direction, which then sprouts into a flower that stuns enemies on contact. Can be used while air dashing.
+
Grab
Ryan grabs his opponent and spins them around before throwing them.
(Note: Both players are invincible throughout the animation.)
(Note: Only works in PvP; Dungeon monsters cannot be grabbed.)
(Note: Due to lag, it may not work, or may intercept the opponent's attack/skill.)
Skills
| Level/Type | Name | Effect |
| --- | --- | --- |
| LVL 1 Basic | Nature Frenzy | Ryan summons up 3 thorn briars up from the ground in front of him. |
| LVL 2 Basic | Wild Justice | With the power of a beast, Ryan performs a quick slash forward then jumps up and slashes diagonally backward. |
| LVL 3 Basic | Crow Wing | With the power of a crow, Ryan throws his scythe a short distance which then stops in place, generating a ring that rapidly spins and attacks. |
| LVL 4 Special | | Ryan summons 9 large thorn briars that strike horizontally across the screen, sending opponents flying. |
Trivia
This is the only job of Ryan that doesn't have a unique transformation.
Community content is available under
CC-BY-SA
unless otherwise noted.