— GRAND CHASE —


ELESIS

LIRE

ARME

LASS

RYAN

RONAN

AMY

JIN

SIEGHART

MARI

DIO

ZERO

LEY

RUFUS

RIN

ASIN

LIME

EDEL

VEIGAS

UNO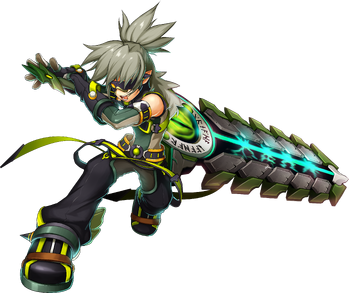 During the 1st Demon War between the demonic forces and Kounat, and while Dio fought alongside the rebel forces, another extremely powerful Asmodian was responsible for unifying the Demonic Tribes and led them to attack the kingdom of humans. His name was Duel.
Armed with the legendary mystic Sword, Eclipse, Duel was practically invincible. Strengthened by bloodlust that generated the sword, Duel killed all those who stood in his way without mercy.
This aroused the anger and envy of the great magician, Oz Linehart, an Asmodian elder who, while not tolerating Duel's methods, greatly envied his power. Oz got the idea to create a sword as powerful as Eclipse, to finally have the same power that Duel. After numerous research attempts, the magician finally succeeded in creating a new mystical sword. The artifact was baptized as Grandark.
However, Grandark proved to be a more powerful sword than Oz could handle. It became so powerful that developed consciousness and personality. His immense power became extremely proud and arrogant, to the point it does not accept Oz as it's master. By not feeling defeated, Oz decided that if he was not able to use the sword, he would find, or create, the one who could!
Centuries have now passed and there has not been any news of Oz, but many rumors began to prowl the underworld, telling stories about a silent Wanderer who traveled everywhere wielding a huge sword emanating a strong energy. All stories were always a factor in common. The fact that the young man never opened his mouth except to utter a single phrase: "Where is Eclipse?".
Zero begins a fight with his sword Grandark on his back. Zero can move quickly and use basic skills with his sword on his back, but his command skills will change based on his sword wielding stance. Like Dio, Zero uses special shortcuts for his skills and specials.
Unlocking
As a first class, Wanderer does not need to be unlocked; Zero starts as this class.
Quotes
Game Start
| | | |
| --- | --- | --- |
| | | "Will I find what I seek today?" |
When Attacking
Skills
Taunt
| | | |
| --- | --- | --- |
| | | "Am I supposed to keep on fighting now?" |
Counter
| | | |
| --- | --- | --- |
| | | "Urgh! Alright, let's do this proper!" |
Game End
| | | |
| --- | --- | --- |
| | | "Argh... I'm so sorry..." |
Basic Movement
Normal Stance
Keystrokes
Name
Effect
3x Hit
Zero swings his arm thrice.
+
Critical Attack
In the middle of his combo, Zero swings both arms forward.
+
Double Attack
At the end of his combo, Zero swings both arms forward.
+
Jump Attack
Zero jumps up and swings both arms downward.
Dash
Zero dashes forward. Holding down the key causes him to run.
+
Air Dash
After jumping, Zero dashes in midair.
+
Dash Attack
While dashing, Zero creates a small damaging orb from the palms of his hand.
+
Grab
Zero grabs opponent's throat and then unleashes a burst of magic from his hand.
(Note: Both players are invincible throughout the animation.)
(Note: Only works in PvP; Dungeon monsters cannot be grabbed.)
(Note: Due to lag, it may not work, or may intercept the opponent's attack/skill.)
or + or +
Stance Change
Zero whips out his Grandark.
Sword Stance
When Zero engages his Sword Stance, he makes a single swipe. He will also gain Hyper Armor; this means that he cannot flinch or be knocked down by any means (although this does not mean that launcher type attacks won't throw him in the air), and can only be defeated if grabbed. However, this stance greatly reduces his mobility; Zero loses his dash ability and is only limited to walking and jumping (much like the Gladiator's Mocking Blade). In addition, the Sword Stance's speed is extremely sluggish compared to the Sword Master as well as lacking much abilities without the Skill Tree.
All of Zero's Specials and Techniques puts him in Sword Stance until the attack is finished, which only his Specials will cause him to sheath the Grandark.
If Zero is in Fatal, he cannot engage his Sword Stance without using his abilities. The Fatal Stance will also immediately convert Zero back to his Normal Stance.
| Keystrokes | Name | Effect |
| --- | --- | --- |
| | Basic Combo | Zero swings Grandark twice. |
| + | Critical Attack | In the middle of his combo, Zero swings Grandark overhead. |
| + | Double Attack | At the end of his combo, Zero swings Grandark overhead. |
| | Stance Change | Zero puts Grandark away |
Skills
| Level/Type | Name | Effect |
| --- | --- | --- |
| LVL 4 Special | Zero Domain | Zero transforms Grandark and thrusts it to the ground. Grandark pinpoints the location of up to five enemies and attacks in the form of a spiked ball, exploding after the initial damage is done. The attack's aiming is similar to Lass's Shadow Vanish, and shares a resemblance with Dio's Chaotic Spark. |
| LVL 4 Special | Terminate | Zero transforms Grandark into a long drill, quickly shredding all the opponents in front of him. Zero retains the ability to move and jump after the activation of the skill. This Special resembles Dio's Onrush. |
Trivia
Wanderer's Gran X strongly resembles Knight's Critical X.
Interestingly, Wanderer can perform Zero Domain and Terminate, even though he only receives the ability of transforming Grandark in such ways as a Seeker.

This is only the case if one were to based this on the game itself. Story-wise, Zero isn't capable yet of such abilities yet unless he has become a Seeker by that time.