Description
"Wielder of the Grandark."
Main Info
Name: Zero Zephyrum
Age: Unknown (Looks 20 years old)
Likes: Getting praised, Grandark, Quiet Places.[1]
Weakness: Lack of presence.[1]
Fearful of the strength of the Ancient Demons, the remaining demon races banded together and formed a league to annihilate the Ancient Demons and began the fight with a surprise attack. The intense fighting continued for a long time with no end in sight. In the midst of the war, "Duel Pone Jack Avenger," the master of the magical sword "Eclipse," joined the war, taking it into a whole new direction. The ever reckless "Duel" lost all reason, and as the war continued, his lust for destruction awakened within him, and after destroying Ancient Demons and lesser demons alike, disappeared. The great wizard Oz Pone Max Reinhardt barely survived, and on the very spot where he was wounded, he created the Grandark, a magical sword that would rival Duel's sword Eclipse. However, Oz was unable to control Grandark's powerful ego, and began searching for someone who could wield it.
After much time had passed, such that the past was virtually forgotten, a mysterious swordsman called the "Wanderer" appeared in "Aernas." He carried with him a strangely formed sword, the likes of which no one had ever seen while destroying every obstacle in his path, and while looking for evidence of an unknown mysterious power, he encounters the Grand Chase in Xenia.
Personality
Thanks to Grandark's ego, Zero is not so good at expressing his own feelings compared to Grandark, thus he is not able to show his huge curiosity. In addition, despite his dislike of fights he believes that fights are the only way to prove himself.
Special Ability
Sword Stances
While Zero starts off matches as a brawler, his special ability, Sword Stance, enables him to use Grandark as a weapon.
Upon switching to Sword Stance, Zero triggers a Super Armor effect. With Grandark in use, he cannot flinch, causing the opponent to be hit numerously by Zero's combo attacks. The downside is that because Grandark is so heavy, Zero cannot move fast nor can he attack fast.
There are three stances that can be used as Zero's abilities are further unlocked: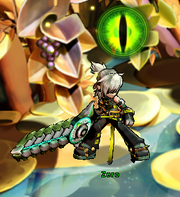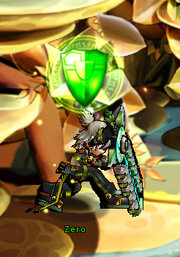 Sword Stance - Zero's regular sword stance. Most of his combo attacks with Grandark lie in this stance. His combos are heavy and deal several hits. Again, his speed is not very efficient in this stance, but the Super Armor makes up for it.
Defensive Stance - Zero guards himself with Grandark.  He lacks combos with this stance, but when passives are attained, he can learn to block attacks. Unlocked in Wanderer.
Offensive Stance - Zero lashes Grandark out and takes on a more combat-efficient stance. In this stance, Zero's combos change and he becomes more reliant on the speed of the attack. Passives allow him to dash and do additional hits with his slashes. The downside is that using any skill will double the amount of AP lost; this does not affect the amount of AP required to perform a skill. Unlocked in Seeker.
Note that Zero can still be grabbed regardless of any stance, and using a skill in any stance reverts Zero back to normal (freelancer) stance (if using a skill) or Sword Stance (if using a technique, the exception being 
Increase
 and
Unique
). Likewise, when using a skill in normal stance, Zero automatically enters Sword Stance and then performs the move, but this is still a part of the skill execution. Upon becoming an 
Advancer
, he can use skills in normal stance.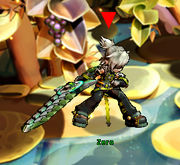 Unlocking

Zero can be unlocked by purchasing a
Mission
scroll from the shop and completing its objective.
References