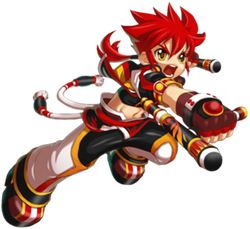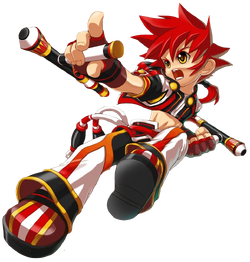 必要條件
白銀大陸的格鬥家傑恩呀!操控著不成熟的體術與格鬥技,可是不足以應付未來的挑戰哦~快點完成霸王門的修煉,蛻變成霸氣的小霸王吧!
- 不敗的霸王
必殺技
普通
Level/Type
Name
Effect
LVL 1 Basic

霸道橫行(True Strike Dragon Tail)

Jin performs three tonfa swings and ends off with a kick.
LVL 2 Basic

雄霸天下(Power Rising)

Jin slides forward and deals two punches then creates a large burst in front of him.
LVL 3 Basic

霸氣山河(The Glow!)

Jin swings his tonfas numerous times, creating a series of explosions, then slides and produces a much larger explosion.
LVL 4 Special

震天擊(Total Smash)
(Destructive Wave)
(Disruption Assault Blast)

Jin charges a small ball of Chi vacuums nearby enemies and then strikes with a palm. If the palm connects, a large circle of Chi will be summoned around Jin, trapping and dealing large damage over time to the opponent, and at the end the circle explodes, dealing more damage and knocking opponents away.
Note: If the palm attack does not hit anything, the skill will end.
Glitch: If the skill's final explosion hits a monster, they may keep spinning even after they lose all their HP, making it impossible to kill and proceed further into the dungeon.
體術模式
| Level/Type | Name | Effect |
| --- | --- | --- |
| LVL 1 Burning | 超‧霸道橫行(Burning True Strike Dragon Tail) | Jin rears back before kicking, and the skill is slower. There is no notable change ind amage. |
| LVL 2 Burning | 必殺‧雄霸天下(Burning Power Rising) | The two punches are replaced with a series of tonfa swings. |
| LVL 3 Burning | 究極‧霸氣山河(Burning The Glow!) | The skill's damage is increased, the slide is replaced with a forward charge and the explosion strikes all around Jin and is much larger. |