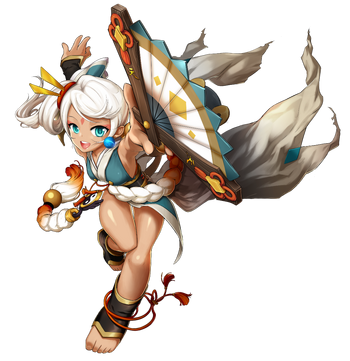 必殺技
Level/Type
Name
Effect
LVL 1 Basic

聖光閃現(聖光)(Flash of Light)

Rin uses wind to push the enemy upwards.

Glyph: A sphere of wind clings onto the opponent for extra damage.
Twilight: The skill, upon hitting the enemy, stops the enemy's HP recovery for 5 seconds.

LVL 2 Basic

暴風之眼(Eye of the Storm)

Rin uses the wind to create a devastating whirlwind that blasts all enemies in it's path.

Glyph: The attack has a longer duration, and enemies nearby are inflicted with the Haste effect.
Twilight: The last hit stops the enemy's HP recovery for 5 seconds.

LVL 3 Basic

最後聖光(Final Flash of Light)

Rin drops a huge sphere of massive energy onto the opponent until it passes them and explodes onto the ground.

Glyph: The sphere slows down and inflicts more hits onto the opponent before ending the move with an explosion.
Twilight: Rin casts the dark sphere that travels slowly horizontally that deals lesser hits but massive damage upon impact.

LVL 3 Secret

淨化(Purification)

Rin starts to float up into the air, twirling around and absorbing blue aura while the opponent is being lifted up and greatly damaged. After the opponent is in perfect distance she reveals her one black and and one white wings while the screen flashes white and the opponent is damaged and dropped back on the ground. Can only be used while in Fatal and must have no glyph charges.

Glyph: N/A
Twilight: No change.

LVL 4 Special

無法停止的力量(無盡之力)(Unstoppable Strength)(Ultrasonic Hymn)

Rin leaps into the air and lifts her fan, summoning 8 spheres of energy similar to Ley's Secret Passage and firing them. Upon contact with the enemy, the spheres explode and disperse into even more spheres that fly from the point of their origin across the map. 4 spheres then ricochet back, also exploding and dispersing if they make contact.